Are you sick of waking up to the loud rumbles of your noisy furnace? Do you get frequent chills indoors due to an ineffective furnace? Are you having trouble turning your furnace on at all? There are a number of problems that you might experience with your home or commercial furnace, but whatever the issue, it's important to call for professional furnace repair right away. So, if you have serious concerns about the performance of your furnace, call Wheeler Heating & Cooling in Schenectady at the first sign of trouble.
We're your answer for top-to-bottom furnace service, from regular furnace maintenance to brand-new installation. Utilizing 70+ years of combined, hands-on experience and expertise, our technicians are able to provide you with unrivaled expertise and precision—two crucial factors for a successful furnace repair. So if you live in the Capital Region and you're ready to restore your home or business's warmth, comfort, and convenience, then you need to call Wheeler Heating & Cooling today!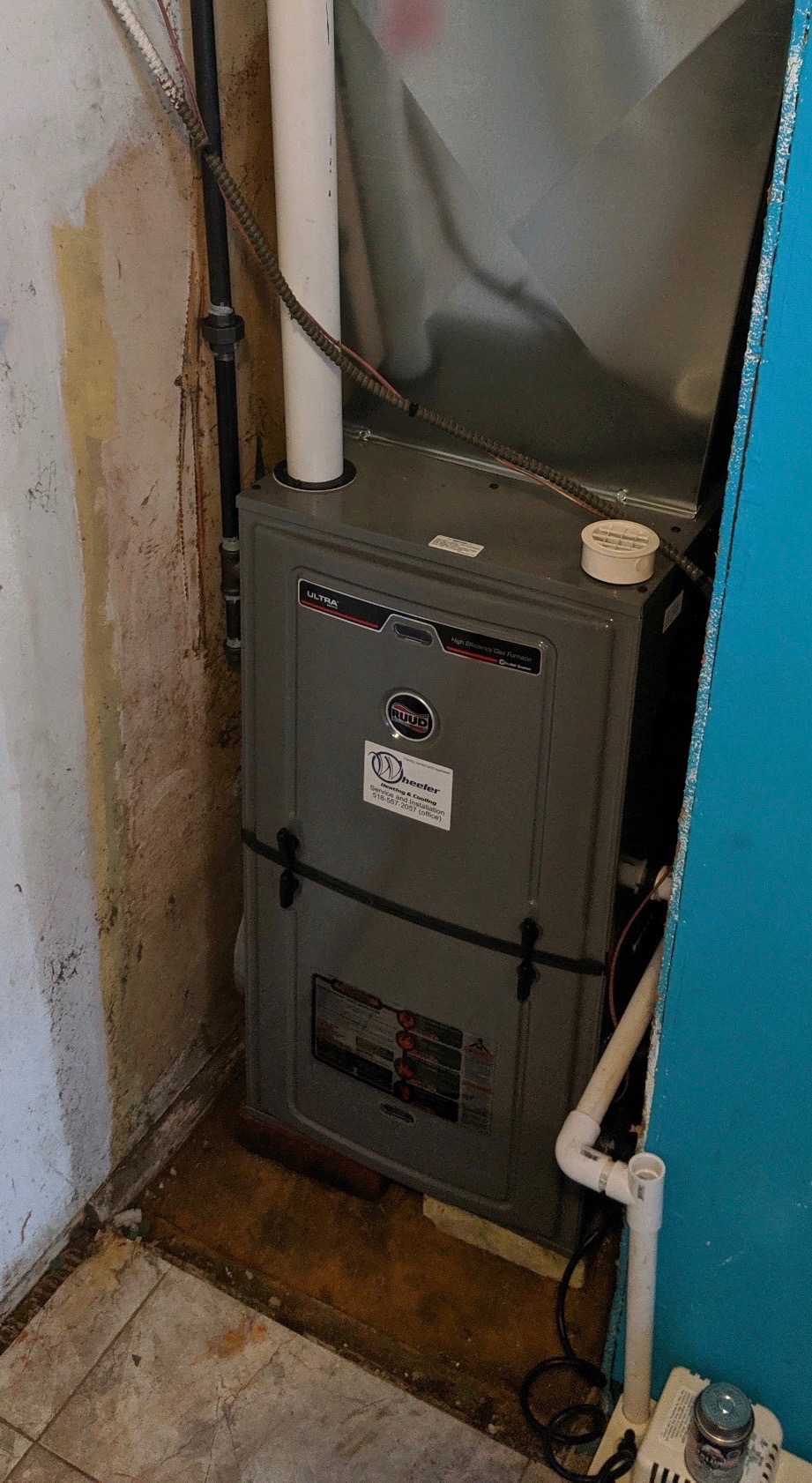 Furnace Repair in Schenectady
At Wheeler Heating & Cooling, our furnace repair technicians are fully equipped to provide residential and commercial customers in Schenectady and surrounding areas with a variety of furnace repairs, including gas furnace repair and furnace maintenance. Given our strength of experience, we'll be able to troubleshoot your unit and diagnose the problem with total accuracy, which means you'll be well on your way to a full-service heating furnace repair in no time. So don't let the chilly air at night leave you frozen! Call our furnace service technicians if you're experiencing any of the following problems:
Unit not generating sufficient heat
Unit not turning on at all
Loud squealing or rumbling noises
Thermostat is inaccurate
Unit perpetually cycles on and off
Blowers are stuck in the "on" position
Pilot light or igniter is not working
Wheeler Heating & Cooling is committed to providing you with all of the furnace maintenance services and furnace repairs you need to get your unit back up and running as soon as possible. We also provide repairs and maintenance service for space heaters and heat pumps. If you're having trouble with the functionality of your furnace or other heating elements, call our fully insured furnace service technicians for complete gas furnace repair today!
Furnace Installation
At Wheeler Heating & Cooling, we also offer complete handiwork for furnace installations. Whether you need a replacement furnace for an older model or you're installing a brand-new one, you'll need professional assistance to ensure peak performance. Our technicians will work to make certain that all of the necessary gas lines and valves are connected with top precision, so as to provide you with an unencumbered heating system that will last for years to come. Your thermostat will be programmed and your pilot light tested by our meticulous professionals, which means you won't have to worry about the accuracy of any of your heating mechanisms. From older suburban homes to new construction projects, we'll outfit your property with the expert furnace installation you need.
From gas furnace repair to annual furnace maintenance, Wheeler Heating & Cooling is available for any furnace repairs or maintenance services you need in Schenectady and the greater Capital Region. We're fully insured, and we offer a 1-year workmanship warranty on all of our furnace install jobs.
So don't delay—schedule a furnace repair or installation from Wheeler Heating & Cooling when you call today!